Melbourne Movies
Plenty of Possibilities for Movie Lovers
At the beginning, I was not too impressed by Melbourne cinemas especially by the big cinema chains. I thought there are only blockbusters. Moreover for a reason I do not know even the American blockbusters are released 6 months after the US' release date. (They even do not need to translate the movie!). You can pretty much get the DVD from Amazon US before the national release.

After a while, I started discovering more and more hidden gems in Melbourne.
Now I can tell you Melbourne has plenty of choices in terms of cinema and there is a movie experience for everyone.
I have listed for you my top 3 Melbourne cinemas and some original Melbourne movies experience.

My Top 3 Melbourne Cinemas

1)   Cinema Nova Quality Melbourne Movies Experience
Cinema Nova is screening fine new-release art-house films and selected commercial films. I like this Melbourne cinema because they always have a great list of films. Along with scheduled movie presentations, cinema Nova hosts exclusive screenings, National Theatre Live screenings and film festivals.
Their discount day is the Monday. All tickets are $6 for sessions before 4pm, and $9 for sessions after 4pm.
They also have recently opened a deluxe section proposing a comfort seating with eating experience.
Nova is located at 368-384 Lygon Street, Carlton.
Lygon Street is one of the most popular street in Melbourne with plenty of restaurants and bars. Makes the perfect choice if you want to have a dinner before or after the film.
2)   Cinema IMAX 3D movie on the world's third-largest screen
IMAX is also in Carlton at Rathdowne Street

The IMAX screen is a massive seven storeys high, measuring 32 meters wide and 23 meters high. The theatre was purpose-built to house the revolutionary projection system and state-of-the-art digital surround sound that make an IMAX screening the most immersive movie experience in the world.
I matched "Avatar" on 3D at IMAX: I just loved it!
3)   The Kino Cinema screens local and international feature films and documentaries
Kino is ideally located at 45 Collins Street in the CBD. Like Nova Kino has also a great list of films.

Throughout the year, the Kino presents film festival programs such as the French movie festival, retrospectives and special events such as premieres, forums and Q&As.
You can have a free 2 hours parking at Collins Place Car park. The Monday bargain ticket is $7 all day.
Every Thursday morning, there is a Babes in Arms session. These screenings, specifically designed with needs of parents and their bubs in mind, are a perfect opportunity to have a movie experience for a parent with a new baby, with easy pram access (with on site lifts), and no one minds the noise made, half the audience are in nappies anyway.
If you are a mum with a new babe, this is a fantastic opportunity for you go to the cinema, even if you may not be able to watch the entire movie, you will love this experience.

Moonlight Cinema

Want to try one of the most pleasant Melbourne movies? You should try the Moolight Cinema.
This Melbourne cinema is an open air screening at Botanic Garden in Melbourne is absolutely fabulous.
It is one of my favourite movie experience during the summer. I will usually go a little bit earlier with some friends to have a picnic in the park and then enjoy a nice sunset followed by the movie.
You can seat on your picnic blanket or hire a bean bed. 
The venue is upon a small hill so you will be able to watch the film from any spot. Of course, if you want to reserve a good spot or if you are a large group I would recommend to arrive early to have a good spot.
You can purchase a "Gold Grass" ticket, which includes a glass of wine and a reserved 'bean bed' in a prime viewing spot.
If you have not done the Moonlight Cinema, you must try it next summer. Be careful, it can get chilly when the sun goes down, so take a blanket.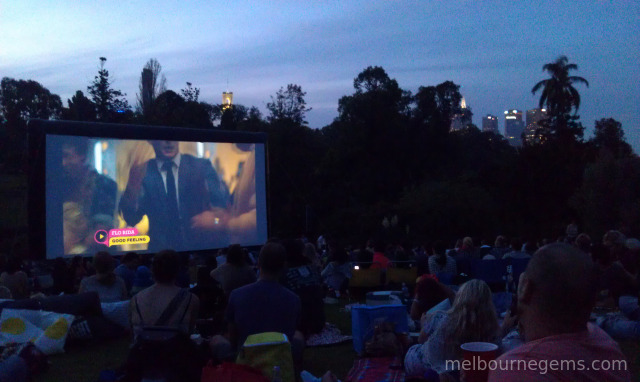 Rooftop Cinema







One of the specificity of Melbourne CBD is all these rooftop bars. You enter by a small back-door and you end up with a bar on a terrace at the top level of a building with a beautiful view.

This time it is a Cinema on a roof in the heart of Melbourne. On top of Curtin House, 252 Swanston Street in Melbourne's CBD.

It is one of the most atypical Melbourne movies experience and it is open everyday from December to March.


You will have a great experience to catch a movie in one of the deckchairs in the middle of all these buildings.






First Class Experience

Most of the large Melbourne movies propose a "first class" experience.
Village cinema has its "Gold Class"
Hoyts cinema has "La Premiere"
Nova cinema has also now a "Deluxe" section.
These Melbourne movies propose what I call  a "first class" experience designed for customers who want to feel pampered when they go to the cinema.
Sitting in the extremely comfortable seats you could enjoy a selection of gourmet food and wine with your film.
You can ask for a drink or a 3 courses meal and ask for your food to be served at any time during the movie.
So, if you feel like a glass of champagne at half time just ask by pushing a button on your seat, and then your wish will be granted.