Park Hyatt Melbourne:
More on my sentimental favourite
As I mentioned before thanks to a program between one of the Melbourne's hospital and Park Hyatt Melbourne, I had the most amazing experience of bonding with my baby.
Me and my baby have been transferred to Park Hyatt and escorted to our private room. The room was one of the largest I ever had with a very comfortable king size bed, beautifully appointed with warm sumptuous fabrics, leather, wood and original artworks. Nice designed walk in robes gave me plenty of space to store my personal items. I think the king bed was one of the best I had. It was so snug that even with a new born baby I had been able to rest.
Very spacious room

I loved the huge bathroom with a double glass hand basins and an oversized shower with built-in bathroom television. You cannot imagine how relaxing it was to have a bath in such condition after having given birth. The soft dressing grown and the elegant bath products completed this pleasant experience.
Beautiful bathroom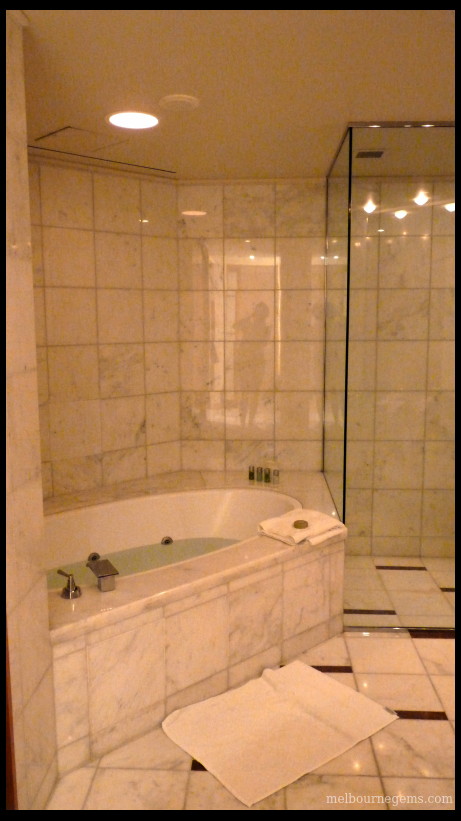 I enjoyed the renowned Radii restaurant for a very nice dining experience since. The service in this restaurant is top notch and the design is great with the circular bar in the middle of the room. The kitchen is on show and I can see the busy staff preparing and creating their cuisine.
The food is absolutely amazing. I had the waygu rump steak from the grill and the meat was so tender. My partner had the barrmoudi and said the fish was very well cooked. They also have a lot of nice small entree for you to taste and the pavlova for dessert was yum!
You can enjoy anything from the menu or indulge in a degustation menu matching with sensational wines.
I also loved the meals served using room service at a time that was convenient to me and my baby's feeding requirements.The food was delicious and the service was spotless.

Delightful room service
The location of the hotel is perfect, close to the parliament and on the edge of the CBD, it is quiet but you can still stroll to everywhere.
If you want to try this hotel yourself, you can visit Park Hyatt official website.

Just in case you are worried to be disturbed by the cries of new born babies, I can tell you that the rooms are so big and so well isolated that I could not hear anything from the other mothers' room next to mine.
In short, it was an emotional and wonderful experience for me. The boutique Park Hyatt Melbourne is a heaven of luxury. It was the perfect transition between hospital and home.
Now, I am sure you understood why this hotel is my sentimental favourite. I often tell to my son: you started your life in such a luxury that you will need to work hard to support this lifestyle later.
---