Meet Penguins in Melbourne
One of The Best Melbourne Wildlife Encounter

There are 17 different types of penguin in the world. The Little Penguin who lives in Melbourne (Eudyptula minor) is the smallest species of penguin. This penguin, which usually grows to an average of 33 cm (13 in) in height and 43 cm (17 in) in length is found around Melbourne.
The first time when someone told me that I could see Penguins in Melbourne I could not really believe it because I thought that Penguins lives in very cold countries.
Now I know that you can see these adorable little creatures:
Living so close the city centre around St Kilda Pier for example
Phillip Island penguins are one of Melbourne's most famous tourist attraction
And little penguins are the stars of the Melbourne Aquarium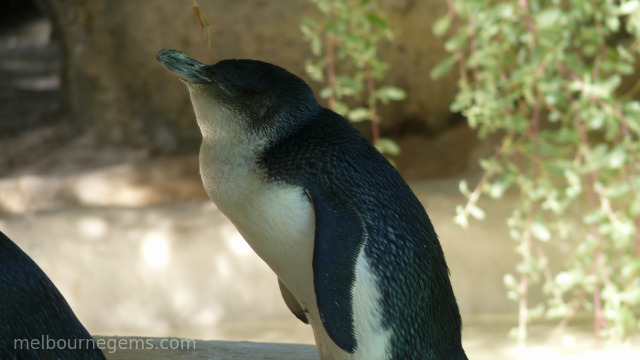 St Kilda Penguins: Melbourne Best Kept Secret

Even some locals do not know that there is a little colony of penguin living in the heart of Melbourne.
St Kilda penguins are on St Kilda breakwater every night of the year.
You need to go at the end of the St Kilda Pier. And best things of all, this is absolutely free.

If you are visiting Melbourne you can certainly spend a day at St Kilda beach. Enjoy the beach, the shops and restaurants at Acland street then visit the little penguins.

In mid winter you may only see a few but in summer there are plenty. Best viewing is just after sunset.
You are not allowed to take flash photographs because flash can frighten or disorientate a penguin. So it is extremely difficult to get a good picture.
Each time when I go there I always feel incredibly lucky to be able to view wild penguins in Melbourne at so close range.

I do not know by which miracle these penguins live so close to the city centre in a very popular suburb.

Do not try to touch them. Please respect their home and do not climb on the rocks.
Penguin Guides are on duty during the daylight saving period and will answer your questions.

Take your kids there to learn how those penguins survive in the city. Your little ones will also have great fun trying to find them between rocks.

Phillip island Penguins:
One of The Most Famous Tourist Attractions

Every day at Sunset time one of the largest colony of penguins in Australia will return home on the beach at Summerland peninsula in Phillip Island.
It is an amazing spectacle to see such a large number of penguin arriving on the beach. There are approximately 70,000 penguins in Phillip Island and approximately 6,000 in the penguin parade area.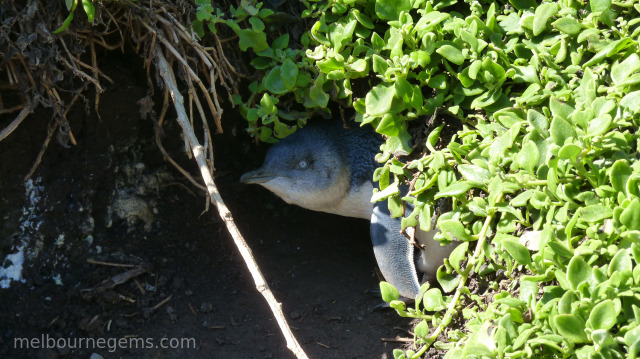 Phillip Island is located 90 minutes drive from Melbourne. Allow a further 20 minutes from the bridge to get to the Penguin Parade. Free car parking on site. There is a huge number of row of seats and you will get a seat at the bench with your general admission ticket.

Phillip Island itself is a beautiful place to visit. There are so many things to do! Such like the Wildlife Park, gorgeous beaches. You can easily spend a weekend or even a week on the Island.
The Phillip Island penguins parade is a very famous tourist attraction in Melbourne. Plenty of travel agencies or tour operators will take you to the parade.
You can go to the visitor information centre in Melbourne at Federation Square to book a tour.
It is still a wild colony in spite of the tourist attraction aspects. The night when I went to the parade there was a seal waiting for "his diner". He considerably slowed down the penguin parade. This is part of the unforeseen events of a wild encounter.
Personally I found the penguin parade is a little tourist trap for me. It can get very popular and crowded in the peak summer period. But if you are in the area, this is still worth going. You would be able to say that you have also seen penguins in Melbourne during your stay :-)

Penguins at Melbourne Aquarium: 
Once-In-A-Lifetime Encounter With Sub-Antarctic Penguins 
Photo courtesy of Bill Harrison

You can meet two type of penguins at Melbourne Aquarium:
Gento Penguins: These cute and cheeky penguins are also the fastest underwater swimming bird in the world.
King Penguins: With their vibrant plumage, impressive stature and majestic nature, king penguins are mesmerising animals to watch.
You cannot miss them, the penguin playground is right after the Aquarium entrance. 
Aquarium successfully breeded Gento and King penguin chicks. You will love to see those adorable baby penguins. 
If you have an annual pass for the Aquarium it is great way to see those little creatures growing.
For a very unique experience you can buy a penguin passport. This 45 minute tour takes you onto the ice where you have the exclusive opportunity to sit among majestic King and cheeky Gentoo penguins. You will also have the opportunity to see food preparation and veterinary areas, as well as how the state-of-the-art exhibit maintains sub-zero temperatures
If you want to see penguins in Melbourne, the Aquarium is the easiest option.