Best Melbourne Beaches

It is not because Melbourne does not have a tropical Caribbean climate that our beaches are not spectacular.
With 2000km of coastline, Victoria has plenty of amazing ``secret'' spots.
I love Melbourne beaches because they are all different:
There are beaches such as Portsea and Lorne famous for a lovely weekend gateway.
Other popular beaches like St kilda or Elwood are close to tourist attractions, shops and restaurants
Some of hidden gems are beautiful and there are very few people.
The best way to find a great beach is by word of mouth because some of the best beaches are only known by locals.
Today I want to share with you my list of best beaches that I discovered over the years of living in Melbourne.

My Absolute Favourites Melbourne Beaches

Some of the beaches around Melbourne are just breathtaking. I thought that I would give you in my opinion the best Melbourne beaches.
You may need to drive a little bit before to succumb to the charm of these hidden gems.
Little Oberon Bay at Wilsons Promontory NP
Little Oberon Bay at Wilsons Promontory NP is at 1.5 hours walk from Tidal River, you will be rewarded with a lovely white sand beach and crystal blue water.
The Wilsons Promontory Natonal Park also known as 'the Prom' is about 3 hours drive from Melbourne and is one of my favourite National Parks, it offers spectacular scenery of huge granite mountains, open forest, rainforest and gorgeous beaches like the little Oberon Bay.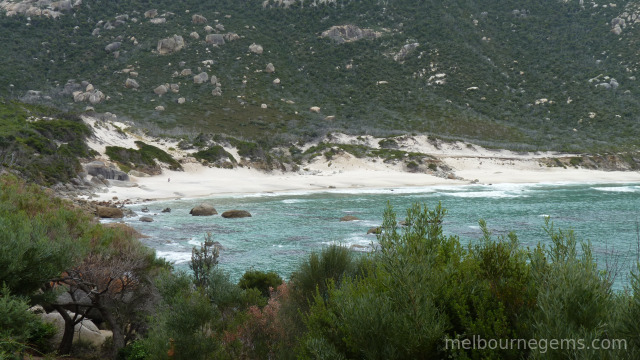 90-Mile Beach

Near Lakes Entrance about 3.5 hours drive from Melbourne you can find a 90-mile long stretch of pristine golden sand.
This is a great place to go. You will find on one side one of the most natural and unspoilt beaches in the world and on the other side beautiful lakes and wildlife.
Ideal for any number of beach activities from beach fishing and swimming to walking, whale and dolphin-spotting or just lazing in the sun.
The beach can be reached from the South Gippsland Highway via the towns of Woodside Beach, Seaspray, Golden Beach or Loch Sport and Lakes Entrance.
Gibson Steps on the Great Ocean Road
The Great Ocean Road drive is studded with spectacular beaches, the below 2 are very outstanding..

Gibson Steps on the Great Ocean Road is only a 2 minutes drive from the most famous Tourist attraction the Twelve Apostles. This is a fantastic location to descend from the clifftops to the wild beach.
Gibson Steps is a fantastic beach. Given most of people will go directly to the Twelve Apostles this could be a great and quiet spot to go.

From the beach you can see two of the apostles and it is a unique experience. Do yourself a favour do not miss this magnificent place if you go to the Great Ocean Road. 
I have been many times, the sunset is peaceful and it is also beautiful with sun light in the early morning.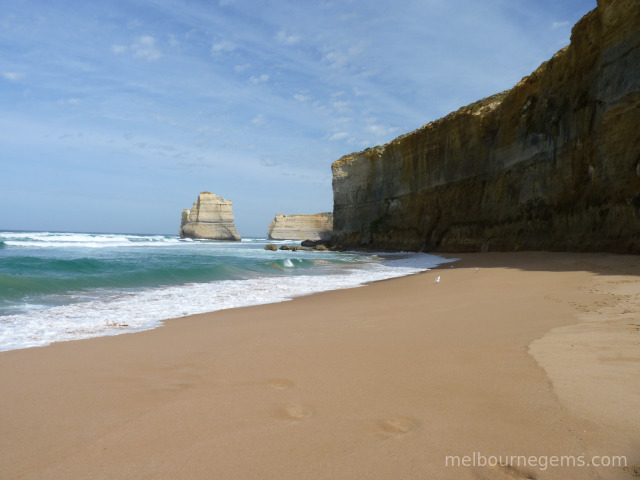 Bay of Martyrs, Peterborough
Most tourists will stop the trip of Great Ocean Road at the Twelve Apostles. I think it is an error because you may miss some gems like the Bay of Martyrs.
A nice beach hidden between amazing rock formations, it's a spectacular place to swim.
It is also one of the best places to see sunset. Photographers you will just love it.
This hidden gem is not mentioned by tourist guides and you could tell by the size of the car park that not many people have found it yet.
I think it is a magical place and one of my favourite Melbourne Beaches.

Top Melbourne Beaches



St Kilda Beach:

St Kilda Beach is a hotspot for tourists and locals. Like all the beaches in the Port Philip Bay there is no waves but it is a great spot for Kite surfing.

St Kilda beach is also close to Acland street with plenty of shops and cafes. It is a very popular spot with a large range of restaurants,

Do not miss St kilda Pier and its little colony of Penguins. No, it is not a myth! It's one of Melbourne best kept secret.





Brighton Beach:

This beach is an iconic Melbourne beach because of the charming little bright, multi-coloured bathing boxes.

I like this beach because of the pure water and clean sand. It's a good place for swimming and sunbathing. People come often to take wedding photos.

Despite of the popularity, it is often quiet and it is a great place to have a picnic with friends or family.


Williamstown Beach:

This tiny beach known to the locals as 'Willy Beach',(approximately 500 m long) borders the picturesque suburb of Williamstown, a short drive from the city center. It offers some of the most amazing views of the Melbourne skyline.

There is also plenty of nice cafe and restaurant in Williamstown.

* Photo courtesy of Steve Davidson





Albert Park Beach:

This is one of the most popular inner city beaches in Melbourne. Owing to its relatively placid and shallow water, it is safe for kids. There is one of the coolest playground for kids with sands and innovative design.

The Sandbar is also a very trendy place to have your breakfast, it is right on the beach so kids can play while you enjoy your meal with a nice ocean view.

Top Suburbs Beaches

In the suburban region there are also some great safe and family friendly beaches.

Mordialloc
This wide, safe sandy bay swimming beach is a popular area for boating.
The Mordialloc beach is backed by an extensive foreshore reserve, that has a number of facilities including the pier, a large car park, park and picnic areas. It also has a lovely, curving promenade running behind the beach from the pier to the lifesaving club and beyond.
Black Rock
Another very popular swimming Melbourne beach. The sunset is beautiful over the cliffs next to this beach.
There is also a very nice fish and chips spot that locals love to go after a swim.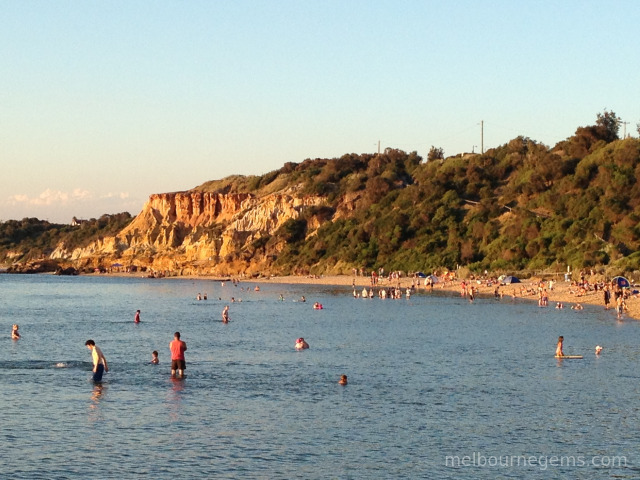 Edithvale Beach
This is one of the Melbourne beaches that only locals know about. Not as popular as the 2 above beaches it is the perfect spot to escape the crowds.
This is a hidden gem of the Port Phillip Bay with its bathing boxes and native vegetation, the perfect pitch for beach cricket.

Hampton
A safe, sandy bay swimming beach with a popular boating and sailing area. The extensive foreshore reserve has barbecue and playground facilities.
I love the beautiful and quiet walking path along the beach.
Most Popular Melbourne Beaches

Sorrento:
One of the most popular beach on the Mornington Peninsula. On the southern-most point of the Port Philip Bay, 90 minutes out of the CBD, is an absolute gem of a beach in Sorrento.
Great spot to enjoy the sunset. There is also some nice walking tracks.
Portsea:
Another very famous beach of the Mornington Peninsula. Portsea is a very popular holiday place with nice restaurants. Part of the Mornington Peninsula National Park, this popular surf beach can be treacherous at times.
Lorne:
Lorne is a popular Melbourne beach on the Great Ocean Road about 90 minutes drive from Melbourne. The sheltered two kilometre beach at Lorne is safer than most on the coast. 
Great Ocean Road is one of the must do thing when you come to Melbourne. The beautiful beach of Lorne could be a great place to have a break during your visit of the Great Ocean Road.

Bell Beach:
Melbourne is located in the Port Philip Bay and there is no big wave for surfers. Although there are beautiful kitesurf places along the bay surfers will need to go outside the bay to find a good surf beach.

Bells Beach is an internationally famous surf beach located 100 km south-west of Melbourne, on the Great Ocean Road near the towns of Torquay and Jan Juc.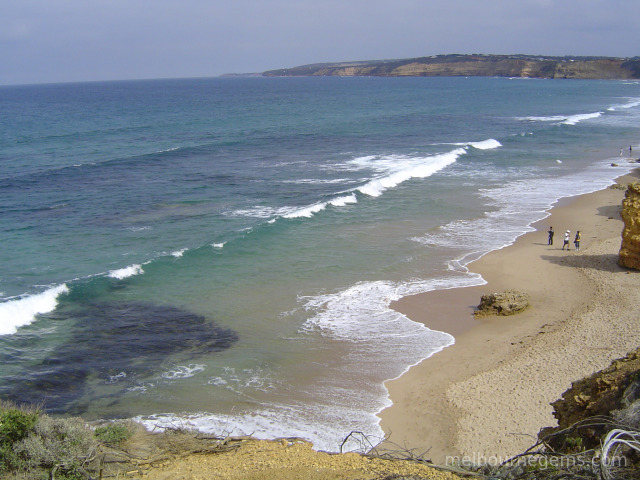 Head to Bells Beach over the Easter weekend and watch the world's best surfers carve up the waves at the Rip Curl Pro Surfing Competition.
The beach is really for experienced surfer and it was 'featured' in the final scene of the film Point Break.