Melbourne Restaurant Guide
The Best of Each Category

There are a such huge number and variety of restaurants in Melbourne that it is impossible to try them all.
However over the years, I have discovered a list big enough of favourite Melbourne restaurants either by myself or by word of mouth. Enough to build my own Melbourne Restaurant Guide.

I would like to organise this list of restaurants in Melbourne by category or by theme.

For instance, Where is the best Italian restaurant? Which one is my favourite Modern Australian restaurant? Who can offer the best breakfast? Where to find the top fine dining restaurant ...
Here is the Guide to Top Eats, the best of each category.
Do you have a favourite pizza, coffee or cupcake place to add to my list of Top Eats in Melbourne?
Click here to add it to my Melbourne Restaurant Guide.
Best Fine Dining Restaurant

Ok, this is not really my rating but a rating by more than 900 industry experts.
Melbourne's Attica restaurant is the best Australian restaurant and can claim the world's No. 21 spot. ($$$) at 74 Glen Eira Rd, in Ripponlea.
Not bad, isn't it? There is not many restaurants can be ranked within the world's 50 best restaurants, even within the 100 best.
The chef  Ben Shewry is clearly a perfectionist. He said he came up with the most famous dessert (Plight of the Bees) after a dream. He spent 18 months perfecting it, making around 50 variations before he was satisfied.
So, maybe just by curiosity you would like to treat yourself at Attica.
The 8 course matching wine menu is almost $300 per head but this foodie's adventure in heaven is absolutely worth it.
Modern Australian
I think the modern Australian is Australian's unique cuisine style. To learn more about Modern Australian.
Personally I like discover a place through its food. Find its unique cuisine that you cannot find anywhere else.
Some of the great Modern Australian restaurants in Melbourne use the inspiration from the mix of culture to propose to their customers an unbelievable culinary journey.
Behind a small door and rickety stairs hide one of the best dining place of Melbourne CBD.
Seamstress Restaurant ($$$) at 113, Lonsdale Street Melbourne is fabulous place to taste delicious and inventive Modern Australian food.
It is a great western and eastern fusion restaurant and the bar upstairs propose some amazing cocktails.
The Duck rice crepe money bag is fabulous. I also love the Pan roasted grass fed eye fillet.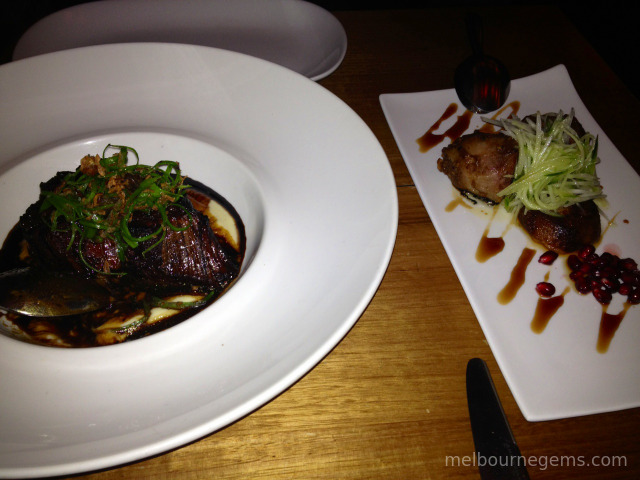 Most Iconic

The most iconic restaurant in my Melbourne Restaurant Guide has to be the Colonial Tramcar Restaurant ($$$).
The Tramcar departs from and returns to Tramstop # 125 Normanby Road, near the corner of Clarendon Street, South Melbourne.
This iconic colonial tramcar proposes a very innovative way to dining. The tramcars cruises the streets of the city and the inner bay side via Albert Park.
The delightful 5 course set menu matching with nice Australian wine guaranty a pleasant 2 hours dinning experience.
I usually recommend the tramcar restaurant to people coming to Melbourne for the first time. It is a brilliant dining experience with nice food, open bar and very entertaining way to explore Melbourne.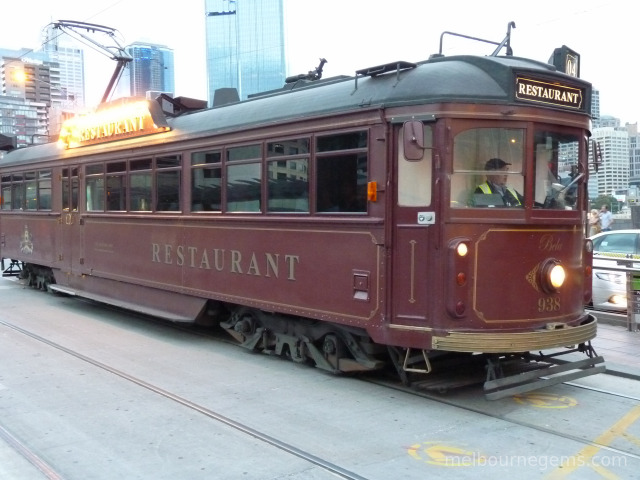 Seafood

The most yummy seafood restaurant in Melbourne for me is the Claypot ($$) at 213 Barkly St, St Kilda
The dining room is not very glamour but the garden outside is very charming if you go during the summer.
I love Claypot because you can get fresh seafood with delicious south Asian cooking style.
Start with some of these amazing garlic king prawns, then go to choose your fresh fish and enjoy your culinary journey.
Their Claypots with fish or seafood are also worth a try.
Again, they don't take reservation. So, sometime you may need to wait a little bit. Fortunately, they have a small bar which proposes a nice wine list and live music.
I am used to paying high price for quality seafood. But the price range of Claypot is very reasonable.
So give it a go.
Burger
The best burger contest is won incontestably by Andrew's Hamburgers ($) at 144 Bridport St West, Albert Park.
I don't know their secret but their burger is definitively the best in town.
Their burger with the lot is simply the burger you must try: real Scotch fillet steak burger with egg, Bacon, Tomato, Cheese & Cooked Onion.
This is a small business owned by a friendly Aussie family originally from Greece. Each family member has his dedicated task.
Andrew is the typical old fashion burger place: they do only one thing but they do it at perfection.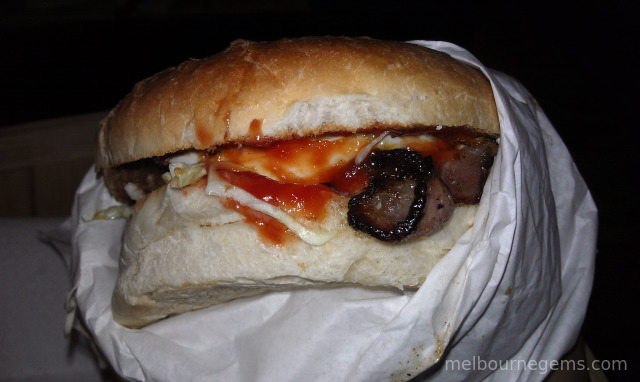 Noddle Soup

The best noddle soup is also a very tight competition. There are plenty of good noddle places in Melbourne because of the huge Asian community.
There are maybe more than 1000 Vietnamese noddle places in Richmond and Springvale. Many of them are cheap ($) and excellent. You can have a delicious fresh noddle soup for less than $10.
My favourite noddle soup place is in the city call Ajisen Ramen ($) 130 Bourke Street, Melbourne.
All the Ajisen Ramen ramen are made in tonkotsu soup, which is pork bone soup. Their noodle is made from wheat flour and cooked to al dente.
I don't know what is their secret but I just love their soup.
So for a tasty, delicious and cheap eating, go to Ajisen.
Chinese Dumpling

There are plenty of Chinese Dumpling restaurants in Melbourne. Some of them are extra cheap but most of the time you get what you pay for.
Some of them are cheap but propose very good quality dumpling.
Auntie's Dumpling at Carnegie or Ping's Dumpling Kitchen at Clayton are some of the good dumpling places.
My favourite dumpling place is ShanDong Mama Dumplings ($) Shop 7-8 194-200 Bourke Street, Melbourne.

The reason for this dumpling place to be the #1 of my Melbourne Restaurant Guide is because Mama's creativity.


They do the classic dumplings (pork, beef or chicken/prawn). They also have their own creation using Melbourne's mix of culture.

Their Melbourne dumpling (Mama's unique recipe of dumpling with seafood, chicken, parsley and garlic) and their Fish Mackerel dumpling rock!

Mama home made dumplings are Melbourne's best for the quality and the creativity.

Breakfast
There is a strong culture of eating out for breakfast in Melbourne. You will see plenty of restaurants offering breakfast all day during the weekend.
Everyone in Melbourne has his own favourite breakfast place to read the paper over a good coffee or catch up with family or friends by savouring a good breakfast.
The contest for the best Breakfast place is very tough competition.
My favourite Breakfast restaurant in Melbourne is Mart ($$) at 107A Cantebury Road Middle Park.

Mart (that's tram spelled backwards) is a cosy cafe at the Middle Park light-rail tram stop. Everything at Mart is delicious.

Personally, I love the Corn Fritters with grilled bacon, home-made relish, sour cream and coriander. They also do a beautiful one with smoked salmon.

The egg #1,2,3, 4 and 5 are all good, just go with any of them and you cannot go wrong. I would also highly recommend the duck omelette.

There is also a great choice of sweet dishes, the pancakes are divine.

Only thing to remember if you go to Mart is they take only cash and they do not take reservation. So you may need to wait a little bit during the weekend.

For around $20 you can have a great dish with one very good coffee.
French Bakery

After my favourite Aussie breakfast place, I want to tell you in this Melbourne Restaurant Guide about my secret French breakfast place.
Noisette my favourite French Bakery. ($$) 84 Bay Street, Port Melbourne.
Noisette is the real French Bakery, their traditional bread are excellent and their cakes are like art pieces.
I have tried a lot of great bakeries in France and the croissants from Noisette are exactly the same than the ones you could find in Paris.
There are plenty of places you could find decent bread and croissant in Melbourne.
Believe me, Noisette is the best in town!
My breakfast time in Noisette: almond croissant with a nice coffee.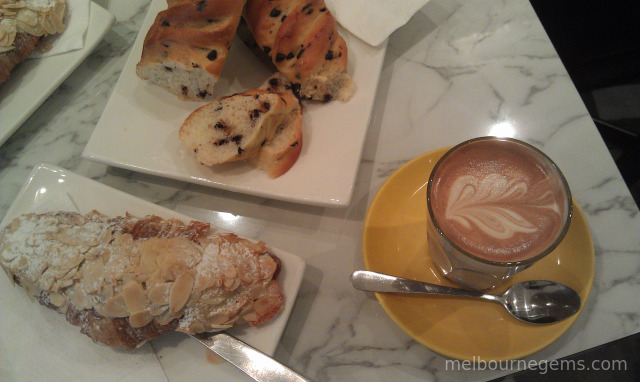 YumCha
After giving you my favourite Aussie and French place for breakfast. I am going to tell you where I go if I feel like to have a great YumCha for breakfast on Sunday.
Taipan restaurant ($$) at 239 Blackburn rd. Doncaster east is the place to go to have a great and authentic YumCha. 
You can savour a huge variety of fresh food coming on the small trolley.
I think one big differentiator for Tai Pan is the massive array of selections. There is always something here that will suit any taste, either Asian or Westernised. 
Don't expect to have a 5 star service and booking are essential during the weekend. 
Give Taipan a go if you are looking for an authentic Yumcha place.
Mexican
I love true Mexican food and for me the best Mexican restaurant is Los Amates ($$) 34 Johnston St in Fitzroy.
Their Enchiladas or Taquiza are the best I had so far.
I went to this restaurant once with a Mexican friend and he told me the food is an authentic home made Mexican food.

The staff are very friendly and the decor of this small restaurant put you in good mood to start the food safari.
If you are a big group, you can get some of the share dishes which is a good option to sample a range of tastes.
There are plenty of Mexican restaurants in other Melbourne Restaurant Guides, but for me if you want to try a great Mexican food or enjoy a good Tequila: go to Los Mates, you won't regret it.
Guide Us To Your Top Melbourne Eat!
Do you have an absolute favourite for a "top eat" that I have missed?
For example, do you know the Best Steak House or the #1 place for Japanese food in Melbourne? I would love to hear about your "top eat." From fries to lobster, from burgers to tapas, guide us to the best!
Other Visitors favourite place
Click below to see contributions from other visitors to this page...

Koko Black: Best Chocolate place Not rated yet
My favourite chocolate place I have to confess: I am chocoholic. I cannot live one day without chocolate. That's probably why Koko Black is my favourite …